Fishing Cape York since '78
WHAT ARE WE ALL ABOUT
Cape York Custom Sport Fishing is based at Seisia, Cape York and offers fully guided fishing for groups or individuals, on a daily or extended trip basis. Your guides, Tim Freebody and Gary Wright, have over 30 years fishing guiding experience between them and have long established world wide clientele.
Good fishing the world over is moon phase and weather dependant. Every effort is made to provide all anglers with the best chance of catching sought after species or to plan a trip to experience the great variety of fishing that Cape York has to offer.
FISHING CHARTERS DESIGNED FOR YOU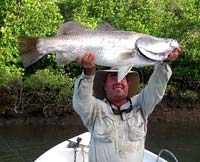 Come along and enjoy some or all of the following exciting fishing trips that specialise in the pursuit of certain fish species.
Go lure fishing with baitcaster, spin or fly rod for Barramundi in a choice of over 100 Mangrove lined waterways from the Jardine River to the Jacky Jacky - the largest pristine Mangrove system left in Australia.
Troll, cast and drift the coastal flats for six species of Trevally, Queenfish, Salmon and Barracuda or explore for the much sort after Permit and Giant Herring.
Cast poppers, jigs and troll the off-shore islands for Mackerel, Queenfish, Giant Trevally and Tuna.
Enjoy the tranquillity of a fresh water drift down the crystal clear waters of the Jardine River where the hook-ups are visual on the prehistoric Saratoga, Barramundi and numerous schools of Tarpon and Coal Grunter.
Float around in the lily pads on the most pristine fresh water lagoons on Cape York for a combination of Saratoga, Barramundi and Tarpon.
Go back to basics with a simple river bait fishing trip for Black Bream, Grunter, Mangrove Jack, Cod, Salmon, Barramundi, Fingermark and more.
If you are interested in wilderness tours or bird watching, we can assist you with travel to many unique destinations where you can witness estuarine crocodiles, turtles, many marine species and a vast number of birds that live and migrate to the tropical north each year, all in their natural environment.