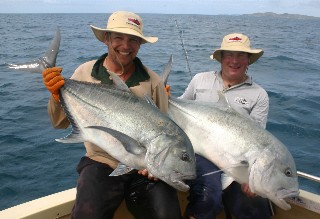 Cape York Peninsula is one of Australia's last true wilderness areas: visit this unique area with the experts for a dedicated sports fishing holiday or just to get away from the world!
The top of Cape York provides a holiday experience that is enjoyed by anyone who loves the outdoors and getting away from the everyday. Travel by plane, land or sea to join us and explore this wilderness area. Every holiday is planned for the individual and every guest enjoys personal attention.
A 'typical' 7 day stay will begin with a scenic flight over the Great Barrier Reef as you travel from Cairns to Bamaga. Guests settle into their beachside accommodation before enjoying a sunset cruise or a relaxing drink watching the sun set over the Gulf of Carpentaria. During the coming days you will visit Thursday Is, the multicultural hub of the Torres Strait, Horn Is with it's WWII history and Heritage Museum, 'The Tip', Australia's most northerly point on the mainland, uninhabited tropical islands fringed with with shallow coral reef, the Gulf beaches, endless white sandy beaches and pristine rivers and mangrove mazes with no industry or habitation and home to species that only live here. You can snorkel the shallow reefs, catch a fish for dinner, including the prized Barramundi, see wildlife up close and enjoy the spectacular scenery.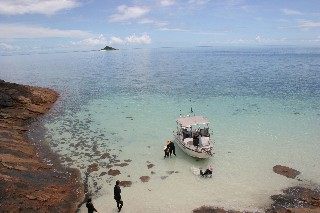 Highlights include:
'The Tip' Australia's most northerly point on the mainland

Wildlife: turtles, dugongs, birds, fish, crocodiles, unique flora and fauna (some only found here)

Spectacular scenery: island lookouts, flight from Cairns over the Great Barrier Reef

Snorkel shallow coral reefs that surround uninhabited tropical islands

Satch a fish for dinner, even the prized Barramundi

Learn about indigenous culture and history

WWII history and memorabilia

Thursday Is: historic, multicultural, enjoy a counter meal, this is the hub of the Torres Strait (and RAN country)

See the Torres Strait Heritage Museum, Horn Is, WWII history and displays

4wd vehicle day trips

Captain Cook's monument on Possession Is

Jardine River, eastern Australia's largest perennial river

Crab Is, largest nesting site of flat back turtles in the world

Albany Is & Somerset, rich in scenery and history

Jacky Jacky & Escape River largest undisturbed mangrove eco system on the east coast of Australia- home to crocodiles, fish, crabs, goannas, birds, insects, bats....