Rusty Tully, the owner of Torres Pearls and the Escape River pearl farm, has been buying and selling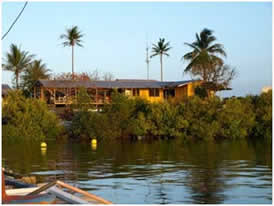 pearls in the Torres Strait for 12 years, and has recently moved into pearl farming.

Rusty and his wife, Bronwyn, live on picturesque Turtlehead Island, located 20km south of the tip of Cape York on
the eastern coast, where they farm gold and silver South Sea pearls. While the farm is not generally
open to the public, visits can be arranged for those who would like to buy their pearls direct from
the source. The farm can be accessed by boat or by air, but bookings are essential. Please email or
phone us for more information.
The pearl shell industry thrived in the Torres Strait throughout the 1800 and 1900's, and during your
visit to the farm, Rusty will yarn about this colourful history and explain the process of pearl culture
that produces such wonderful results. For those men who are making their once-in-a-lifetime fishing
trip to the Cape, what better gift is there to take home to your special lady than a gorgeous piece of
pearl jewellery! Pearls on chokers are also available for men who dare to be different. The fishing
in the mangroves around Escape River is great, so why not combine a visit to the farm with a day's
fishing.
Our pearl jewellery is also available for purchase from Cape York Ice and Tackle, located in New
Mapoon, on the road between Seisia and Bamaga. Bully and Cheryl are more than willing to assist
you with your pearl purchase.
Our pearl jewellery range includes pendants, earrings and strands, mounted on yellow or white gold,
or silver. Pearls grown locally come in either silver (the traditional white pearl) or gold, and each
colour includes a range of shades. The Escape River area is also renowned for producing the rare
silver pink and gold pink pearls.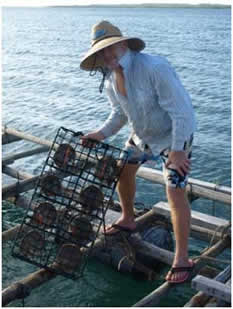 So make your trip to the Cape complete by taking home one of nature's most beautiful and sought-
after treasures.
Website address : www.torrespearls.com
Email address : torrespearls@hotmail.com
Phone : 07 40694694