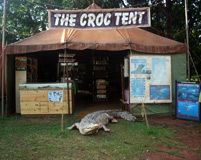 The Croc Tent first opened on the banks of the Wenlock River in 1984. At this time travel was extremely difficult with drivers even resorting to building rafts to float their vehicles across flooded rivers.
In 1991 the business moved to it's current location only 17 kilometres from the top of Australia. We now specialise in helping travellers get the most out of their time "at the top".
The Croc Tent is renowned as a meeting place. At the junction of the Punsand Bay and Cape York roads, it is an ideal place to group and launch out on the last leg of the journey north.
The road conditions vary enormously. One sandy patch can change from wet and boggy, to smooth and firm, then to dry and soft in only a matter of weeks. And what a difference a fallen rainforest tree can make. We chat with people on the road every day and keep abreast of the latest conditions. Come and get our free map of the top, and talk to us about the sights to see and how best to get there.
And then celebrate your achievements with our range of souvenirs. Whether for yourself or your friends and family, there's something to suit. We have over twenty Australian-made shirts in a full range of sizes, Cape York stubby coolers, signs, toys, spoons and plenty of others. Our rainsticks have to be seen and heard to be believed.
The Owners
We, Terry and Davida, first travelled to Cape York in 2004... on foot. So we literally know every step of the journey. We enjoyed it tremendously, the changing landscape, brilliant stars, crystal clear streams, and the people. Everyone was friendly and helpful. A special thanks to those who passed us a cold drink or chocolate on their way past.
During our walk we had spent hours chatting at the Croc Tent, so when we heard it may be for sale we jumped at the opportunity. So it was that in september 2004, we had a new business, a new home, and a new way of life.