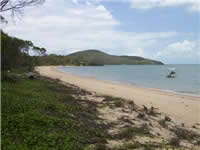 Punsand Bay Camping Resort is situated 5km west of the Northern of Tip of Cape York Australia and with 10kms of beachfront where you can watch the sun rise over the Coral sea of Pacific Ocean and set over the Arafura Sea in the Indian Ocean. Punsand Bay's unique geographical position makes it one of Australia's untouched wilderness with an abundance of wildlife. Punsand Bay is a paradise to birdwatchers, fishermen, beachcombers, history buff or adventurers.
At Punsand Bay it is possible to watch the sun rise over the Coral sea of the Pacific Ocean and set over the Arafura Sea of the Indian Ocean. Enjoy the perfectly clear blue sea, and golden sand beach that meets the Australian bush, its a not to be missed experience! A licensed restaurant and bar is onsite, and the fishing is great.
Campsites
Our secluded bush and beachfront campsites are powered or unpowered, and can accommodate most 4WD caravan and camper trailers.

With the beach front at your door step, fishing and watching the sunrise and sunset; you will be in for a relaxing and enjoyable holiday.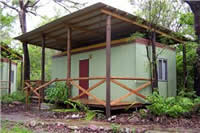 Airconditioned Cabins
Our air conditioned cabins have two rooms twin share or double. Rooms are separated by a shared en suite bathroom. We provide you with Linen & towels and your own personal verandah. The cabins are only a short walking distance to the restaurant & bar and pool area. Cabins are set in the bush, and only a short walking distance to the beautiful golden beach.
On-site Tents
Our on-site-tents are set in bushland or on the beachfront with a sea view of the Torres Strait. We have Twin share, double and family tents without en suites and twin on-site tents with ensuite.
We provide linen and towels in the all the on-site tents. The Cabins and tents are cleaned and serviced daily.
Licensed Restaurant & Bar
Our Eco-friendly licensed restaurant and bar is open 7days for breakfast, lunch and Dinner. Our bar is stocked with a selection of Beer, wine and spirits.

Saturday Night Seafood Extravaganza is a must for anyone who visits Punsand Bay!