Specific purpose contractors accommodation camp and meals service at the Tip of Cape York Queensland Australia
Servicing contractors, government agencies and others undertaking projects in and around the communities of Seisia, New Mapoon, Bamaga, Umagico and Injinoo in the Northern Peninsula Area (NPA)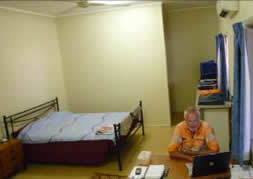 Oasis Accommodation provides a tailored, specific service to working crews of up to 30 as well as smaller groups and individuals that are in the area for work. Donga based accommodation with new oversized air conditioning and king single inner spring mattresses ensure a good nights sleep after big days work. Meals to a very high standard, wholesome, balanced, nutritious, working mans food and plenty of it. Lots of vegetables, meats, roasts, pastas etc. everyone is always more than happy with the quality, and quantity of the food.
The facility is a purpose constructed, centrally located in the industrial area of Seisia adjsunt other trades services and 600m from the freight handling wharf with ample secure parking and equipment storage and significant adjsunt hard stand availability. The site is sewered and has 3 phase power. The compound is private, quiet, secure (including outside), pleasantly grassed treed and maintained and has out door and undercover areas for recreation, storage of vehicles, "toys", machinery and materials.
Breakfast is laid out at 5.30am cereals toasts, fruits, (fruit salad), tea coffee and left overs from evening meals and purpose cooked cold foods for breakfast and lunch. Lunch makings are also laid out, salads, cold meats, wraps, bread rolls etc with plastic take away food containers. Contractors have breakfast and make their own lunch which is taken to the site. Dinner is between 7.00 and 8.30 self serve from Bain Marees or prepare a plate for later consumption.
Oasis Accommodation operates in conjunction with Carpentaria Seafaris (else where described this site) and the 12 passenger charter vessel Tropic Paradise which is also available for contractor accommodation (and transport to) remote coastal and island locations.