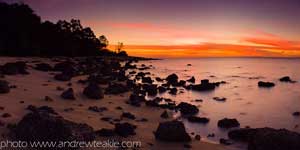 Alau Beach Campgrounds & Budget Lodge @ Umagico offers absolute beachfront camping in our fully grassed and well shaded campgrounds at the base of rain forest clad escarpment overlooking the beautiful Torres Straight and its majestic islands.

The campgrounds offer powered & unpowered sites and also have powered huts right on the beachfront ideal for larger groups. Hot showers, clean toilets and coin operated laundry are also features of the park.

A well stocked local supermarket with everything you would need is open 7 days.

There is great fishing of the beach or launch your tinny and fish the reef and local creeks.
Amazing bird life in the park and its surrounds, including the beautiful Palm cockatoos make the surroundings interesting and relaxing.
.

Full Telstra mobile and internet coverage means you dont have to be cutoff from the world (unless you want to be !!)

Thursday Island tours with a difference can be booked at the kiosk along with fishing charters.

Helicopter flights can also be booked as well and the chopper will pick you up right on Alau Beach.

The kiosk is well stocked with souvenirs, drinks, ice-creams etc. Bread and milk.
You can also select an air conditioned donga some with single beds and some with two singles (twin) Communal kitchen and amenitys service the Donga's. They provide linen and towls. Donga's are only 1 mintute walk from the beach.
Take away food is also available.

The managers ( Tony&Juli Ross ) are very passionate about Cape York and all it has to offer. Its history, places to go and see, where to fish, road conditions etc. They are only to happy to share this with people to make their holiday truly memorable.

Alau Beach Campgrounds & Budget Lodge @ Umagico is located 40 ks from the 'tip', 5 mins from Bamaga, 7 mins from the famous jetty overlooking Red Island.
To get there turn into Umagico and follow the signs to the beach.

Bookings or inquiries can be made by calling Rachel Yusia, NPARC Property and Leasing Manager, based at NPARC Bamaga Office.
07 4090 4100
Children under 12 camp for free.
Adults are $10 per night. Powered sites are $5 per site.
If you stay for a week the 7th nite is free.

ALAU BEACH CAMPGROUNDS THE BEST KEPT SECRET ON THE CAPE.