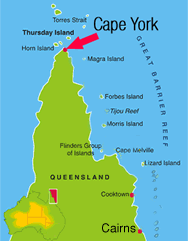 CapeYorkinfo.org is a one stop portal site linking to the attractions, services and general interest sites of the businesses and services of The Cape York proper, north of the Jardine river. Get all the information on the area from drop down menu links to sites and contact details of operators, businesses and services of the area referred to by locals as the NPA, Northern Peninsula Area (pop.1937. 2001 census)
Background and history of Cape York
The land north of the Jardine river, the True Cape York, is a narrow peninsula with the Coral sea to the east the Arafura sea and Gulf of Carpentaria to the west and the Torres Strait to the north. Only 80 miles south of Australia's nearest neighboring country Papua New Guinea the land is traditionally owned be the indigenous Australians of the area.
There are 5 communities of Aboriginal and Torres Strait islanders with very good services and enterprises supporting the traveler, tourist and holiday maker.
Accommodation, restaurants, supermarkets, post office, specialist shops, service stations, mechanical services, hotel, licensed club, take away food, historical / tourist information centre and museum,hire cars, EFTPOS, hospital, police, post office, banking, libraries, internet and public swimming pool are just some of the services available.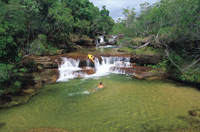 Seasons
At one time Cape York was only visited during the dry season between May and November because of the misconception it is not accessible any other time. Airline and shipping services carry passengers all year and the accommodation houses and tour guides also operate year round. Many, in fact most all consider some of the best months of the year to be "The Green Season" between December and April.
Cape York Accommodation
Several accommodation options are available on Cape York , from motel units, self contained cabins, lodge rooms, eco tents and camping, available 365 days a year.
Cape York Travel
Cape York can be accessed all year by air and by sea and is a must do destination for wheel drivers and overland safari tour company's when the Peninsula Development Road is open.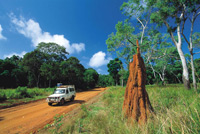 Services in Cape York
Include RACQ, mechanical services and freight both by sea and air. Most all businesses accept cards and EFTPOS is available. Supermarkets, bakery and takeaway, food outlets, shops, including tackle store, general retail, clothes, hardware, gift lines white goods and souvenirs. Tourist information is available from most all businesses especially the accommodation houses, retail stores and historical centre / museum . There is a regular public ferry transport service to Thursday island.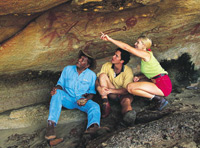 Activities and things to do
Fishing tour operators including a live aboard charter vessel operate from Cape York packaging extended fly in holiday tours and day trips for people holidaying in the area. The fishing from the local wharf excellent. Hire boats, helicopter scenic and charter flights, horse trail riding and Lockerbie tours and charter sunset cruises, croc spotting tours and Cape York Tip tours are just some of the activities available.
Beyond the Cape
Cape York is the stepping off point to the spectacular Torres Straits and regular publicferry transport to Thursday Island connecting with tours, activities and accommodations on the islands is available year round. A whole 'nother world to explore.
Links
Useful links for your trip planning to the true "Cape York"